The Mary Ryan's Club Card
Mary Ryan's Club Card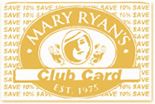 The Mary Ryan's Club Card is a great way of encouraging loyalty from our customers, as well as keeping them informed as to what's happening at Mary's.

Customers pay an annual subscription fee of $50 in order to receive the following member benefits:
10% off books, giftware, coffee, food, and event tickets year round
Two 20% off shopping nights a year
The Good Book Guide mailed out
A chance to receive complimentary movie tickets upon each GBG release
Regular online communication in the form our monthly e-news.
The Mary Ryan's Club Card is a fantastic way of encouraging customers to return to your Mary Ryan's. It is also an excellent interactive tool for staff to use to communicate with customers. Mary Ryan's staff find that their Club Card members frequent Mary Ryan's author events. This is an excellent way to ensure enthusastic numbers at author events as Club Card members are committed readers with a keen interest in all things books.